Working Principle Of Spiral Freezer For Sale
When the food is sent to the quick-freezing room with the frozen product tray, the strong cold air generated by the refrigeration system forms a stable horizontal annular low-temperature airflow under the action of the fan and the deflector, and exchanges heat with the vertically moving frozen food. The food is quickly cooled and frozen, and the freezing process is completed.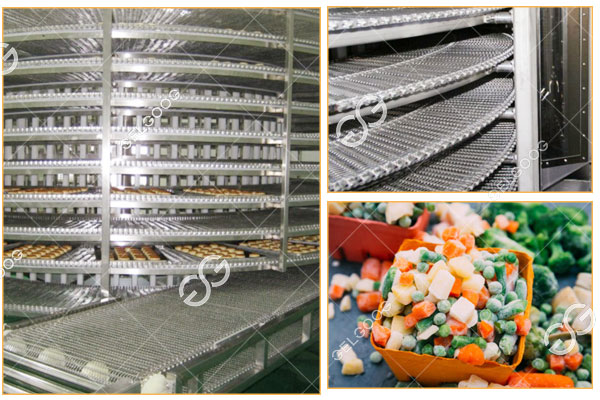 Advantages of IQF Spiral Freezer
1. Compact structure and small footprint: whether it is a single helix or a double helix, the floor space is saved as much as possible.
2. Fast freezing and low dry consumption: The unique patented air supply system has high cooling efficiency and low dry consumption; the heat exchanger has a variable-plate spacing structure, which has high heat exchange efficiency and rapid cooling.
3. Save operating costs: the installed power of the same product is low, the fully enclosed air duct design, the installed power is low, and the operating cost is greatly saved.
4. Reliable and stable operation: the advanced structural design of the iqf spiral freezer ensures the stable operation of the spiral iqf freezer; strict manufacturing process and installation process control ensure precise and reliable equipment
5. Wide range of applications: suitable for a variety of materials including various fruit and vegetable products, seafood, cakes and so on.
6. Extend the freshness of materials: not only can the yield of frozen products be guaranteed, but also the quality of frozen products can be guaranteed and the shelf life can be extended.
7. Flexible and adjustable freezing capacity: The processing capacity is 300kg/h-3000kg/h, which can be customized according to specific needs.
Technical Features Of Spiral Freezer For Sale
1. Reliable transmission system
2. High-strength mesh belt, all stainless steel structure
3. Efficient and hygienic evaporator
4. Drive motor with variable speed controller.
5. Control panel with easy-to-operate switches, automatic air supply controller and temperature readout.
6. Built-in fan to promote vertical movement of gas.
7. Automatic air defrost