Less than a year after the 9-meter-long washing machine and quick-freezing equipment customized by Gelgoog, the Mexican customer ordered a 3-meter-long broccoli washing machine again. The Mexican customer's plant currently processes about 40 tons of broccoli per day.
The Mexican client is a rancher who grows over 3,000 acres of broccoli and other vegetables. Mexico's mild and dry climate is ideal for growing broccoli. As a traditional Mexican dish, broccoli has a good local market. However, compared with broccoli without any processing, the value of broccoli directly exported to the United States after a series of processing such as cleaning and quick freezing has more than doubled. Prior to this, the equipment adopted by customers was far from meeting the needs of production due to the low level of automation. Due to the inability to wash and freeze in time, part of the broccoli was damaged and had to be discarded. It's time to make a change and make up your mind about the purchase of new equipment.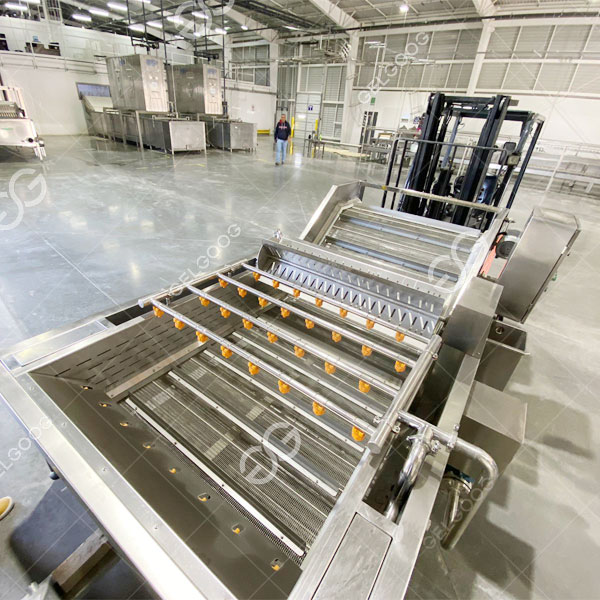 The customer sorts out the problems of the existing equipment and compares and selects the suppliers one by one. When contacting Gelgoog, the client already has enough confidence in his heart. As a customized solution provider, Gelgoog is very handy in meeting customers' production customization needs. The solution engineer repeatedly confirmed the customer's factory floor plan and production habits, designed the equipment placement diagram, and added each parameter in detail. The customer manager demonstrated the cleaning and quick-freezing effects of the equipment through online meetings for many times, and estimated the water and electricity consumption.
Gelgoog delivered this batch of equipment as scheduled, and the equipment that has been installed, commissioned and put into production runs smoothly. Customers add cold water during the washing process, which can well preserve the nutrients of broccoli and is conducive to keeping fresh. Washed, quick-frozen broccoli is exported directly to the United States. While avoiding waste, take into account high quality, high efficiency and energy saving.
"This year, I expanded the planting area again, so I still need to buy new equipment. This time, I chose GELGOOG directly because Gelgoog is like a friend to me. I remember one time last year, my workers mishandled the equipment and caused a little bit of small equipment. The situation. I contacted GELGOOG, and I didn't expect the problem to be solved quickly. Later, I turned around and realized that it should be early in the morning in China"
——Mexican customer
Gelgoog always insists on understanding and satisfying customer needs, and regards customer satisfaction as the starting point and foothold of the company. Gelgoog is willing to join hands with more customers to meet the new trends in the food processing industry! Contact us for more information and quotation. Email: info@machinehall.com