Features of Vegetable Cube Cutter
1. Stainless steel material, hard and wear-resistant.
2. The main function is dicing, the dicing machine can make sliced and shredded shapes by changing different knife combinations.
3. Copper core motor, strong power effect, low energy consumption and high efficiency.
4. Well-designed, large-capacity feeding port, more convenient to use.
5. Can be diced, shredded, and diced, suitable for potatoes, carrots, taro, sweet potatoes, onions, bamboo shoots, ginger, apples, and papaya.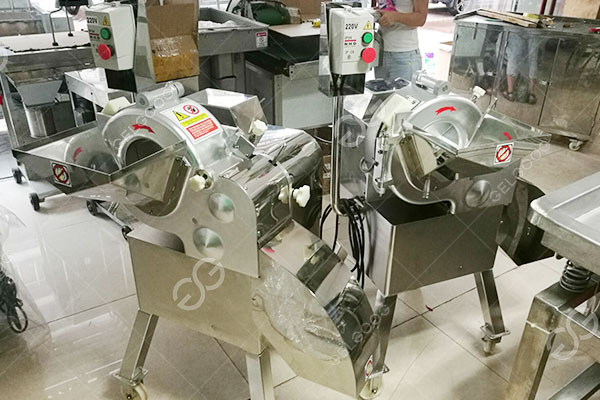 The Advantages of the Vegetable Chopper Machine
1. The vegetable cube cutting machine can realize the multi-purpose function of one machine, which can be diced, shredded and sliced.
2. Widely used in various large, medium and small restaurants, canteens, hotels, vegetable processing plants and pickle processing industries.
3. Humanized design, easy to clean the discharge port.
4. Waterproof switch, carefully selected waterproof cover, safe and reliable.
5. Mechanical bottom roller design, easy to move and use.
How the Vegetable Cube Dicer Works
The dial of this vegetable cube cutting machine drives the object to be cut to rotate at a high speed, uses the centrifugal force of the object to cut the object to be cut into slices with the help of a vertical knife, and then cuts it into strips through the disc cutter, and sends the material to be cut into the transverse cutting edge. Cut the cross-cutting knife into the desired cube or cuboid.