Features Of Automatic Potato Peeling Machine
1. The peeling effect is good, and the peeling rate can reach about 95%.
2. The potato brush washer output can be customized, ranging from 200-3000 kg per hour.
3. Stainless steel material, long service life.
4. The water circulation system is set up for spraying to save water resources.
5. The brush can be customized according to different processing techniques.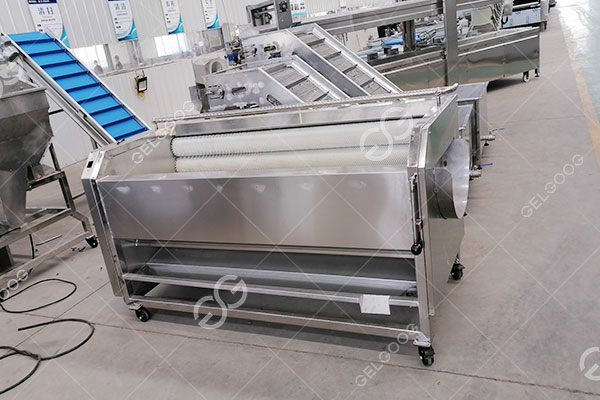 Why Choose A Potato Washing And Peeling Machine?
1. Save labor time cost and improve production efficiency.
2. Compared with manual peeling, the peeling machine saves the loss of raw materials.
3. Continuous operation can be carried out to improve the processing efficiency of potatoes.
4. The potato peeler machine can wash and peel a variety of materials, such as ginger, root vegetables, taro, cassava, etc.
5. Suitable for a variety of occasions, can be used in canteens, fields, food processing plants and other places.
Subsequent Processing Of Peeled Potatoes
Fresh Cut Potatoes, French Fries, Potato Chips, Frozen French Fries, Mashed Potatoes
We are experts in potato processing equipment, with potato washing and peeling machines, potato cutting machines, french fries and potato chips production lines, potato packing machines and many more. Contact us if you want to start a potato processing business.