How to clean fruits and vegetables can not only ensure a high cleaning rate, but also reduce the damage of fruits and vegetables? How to improve the efficiency of clean vegetable processing, and can enter the cooking process after processing? Compared with the above two points, they are the two major problems that practitioners in the processing of prefabricated vegetables often encounter.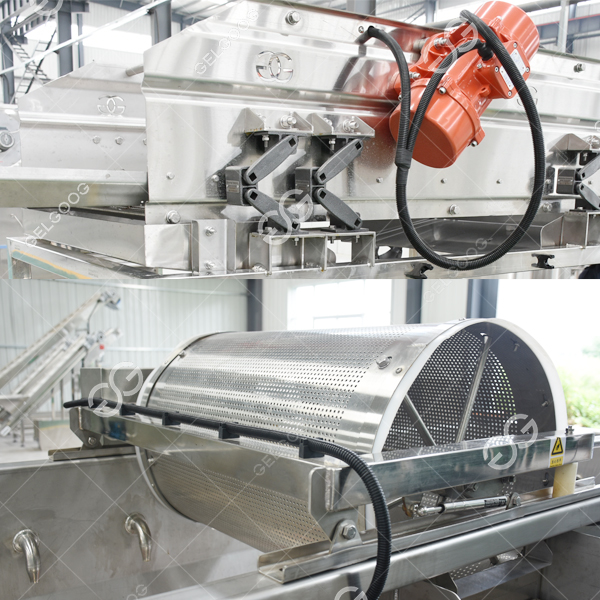 The vegetables and fruits used in the prefabricated vegetables are more important than the cleaning of fruits and vegetables. Generally, there are certain requirements for procurement. It is required that the food delivered should be hygienic, safe, non-toxic and harmless. For vegetables, it is specially pointed out that pesticide residues should not exceed the standard and should be Maintain good color and freshness, no yellow leaves, rot, sediment, etc., with a traceability system and traceability requirements.
Today, I will explain to you a prefabricated vegetable cleaning artifact - eddy current type vegetable cleaning machine.
1.Introduction Of Current Cleaning Machine
Current cleaning is a machine that is different from bubble cleaning. The whole current machine is composed of two parts: cleaning and removing impurities and dynamic draining. It is mainly composed of eddy current and bubble cleaning. The cleaning tank swirls to buffer the dishes. The effective cleaning time is longer, the cleaning space is larger, and there is no hygienic dead angle.
The pulsation part adopts high-frequency pulsation transmission, high-frequency micro-vibration motor, and swing arm type flexible spring. The pulsation frequency is high and the pulsation is stable. There is an automatic water replenishment function in the box, which greatly reduces the machine failure rate. When the material is cleaned, it makes a spiral motion together with the clean water in the cleaning water tank. After the material is cleaned, it is pushed forward to the vibrating conveying mechanism by the action of hydrodynamic force, and then sent out of the cleaning machine.
2: Application Of The Current Type Vegetable Cleaning Machine
The eddy current washing machine is suitable for cleaning, removing impurities and draining various vegetables such as cabbage, green vegetables, cauliflower, lettuce, carrots, mushrooms, green peppers, potatoes, eggplants, green beans, snow peas and so on.
The eddy current cleaning machine developed by our company uses the cleaning water to form eddy currents, so that the materials are cleaned in the eddy current water. It combines the advantages of the bubble cleaning type and the cyclone type vegetable washing machine without harming the material. It not only improves the cleaning rate, but also reduces the damage to the material.
If you have the processing needs of prefabricated vegetables, or want to know more about the eddy current type vegetable washing machine, you are always welcome to inquire.