Features Of Ginger Bubble Washing Machine
1. The bubble ginger washing machine adopts the combination of spray and bubble cleaning to achieve the highest cleaning power.
2. All the water tanks of the machine are equipped with a slip-and-fall design, and all the water tanks can be pulled out separately to clean the equipment.
3. The shell of the ginger washing machine main part can be disassembled, and all the pipes and joints are designed with quick-change joints, which can be disassembled and assembled without tools, which is convenient for sanitation and cleaning without dead ends.
4. The conveying speed of the mechanical mesh belt can be adjusted to control the cleaning time and the speed of discharging.
5. Unique structural design, can be customized according to the length and width to be processed.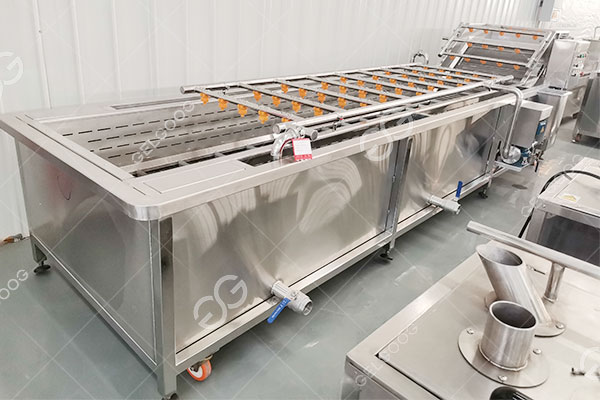 Advantages Of Automatic Bubble Ginger Washing Machine
1. With a circulating water pump and a filter water tank,ginger washing machine can realize the recycling of cleaning water, save water, and the water saving rate can reach about 80%.
2. The operation is simple, only one person can complete the operation, which can reduce labor time cost and improve the production efficiency of ginger processing.
3. Introduce equipment for lean processing, which is sturdy and durable, does not produce noise pollution, and is not easy to deform.
4. The ginger bubble washing machine adopts electric energy working mode, and the energy consumption is relatively small.
5. Suitable for a variety of fields, it can be used in fruit and vegetable processing plants, fields, hotel canteens, etc.
Operation Steps Of Ginger Washing Machine
1. Clean the water tank and fill it up with water; pour clean water into the main tank until water overflows from the overflow port.
2. Start the conveyor mesh belt motor to make the mesh belt run normally and in the correct direction.
3. Start the vortex pump and inject air into the water in the tank to make the water in the tank churn.
4. Open the valve of the spray pipe, so that the water is evenly sprayed on the mesh belt.
5. Check the operating parts and make sure that they can work after normal operation.
6. Depending on the cleaning degree of the material, the mesh belt can be conveyed after being cleaned separately.