Features Of Ginger Cleaning Machine
1. The ginger washing machine price is made of stainless steel, with a bright appearance, which is easy to clean and maintain.
2. The ginger washing machine price has the characteristics of low energy consumption, small size and convenient movement.
3. High degree of automation, open the discharge return baffle, and realize automatic rolling discharge under the rotation of the hair roller.
4. It is more convenient to discharge sewage, the residue after peeling falls to the bottom to realize the separation of slag and water, and the sewage is discharged from the drain pipe.
5. With spray, and water circulation system, saving water resources.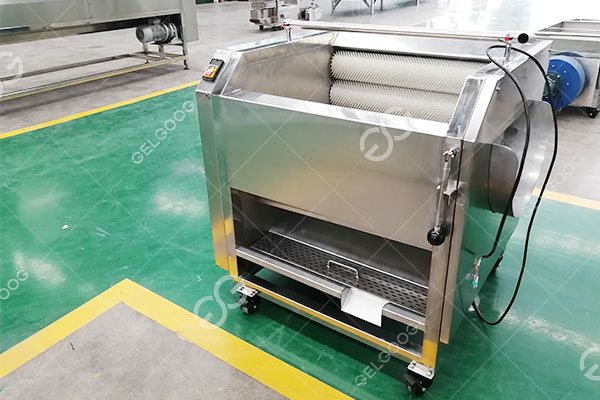 Advantages Of Ginger Washing Machine Suppliers
1. The brush is made of nylon and has a long service life.
2. The mechanical structure is compact, no noise pollution occurs during use, and the material is hard and not easily deformed.
3. Equipped with a powerful motor, which can improve the working efficiency of the machine.
4. The vegetable ginger washing machine is equipped with rollers, which is convenient to move and use.
5. It can work with the production line to achieve continuous operation in ginger washing plant.
The Working Principle Of Ginger Cleaning Machine
The ginger washing machine is mainly composed of a motor, a transmission, a hair stick group, etc., and adopts the principle of brush friction. Put root vegetables or fruit balls on several rollable brush rollers in the formed U-shaped hopper to make the materials contact the rotating brush rollers to generate surface friction, and clean water is sprayed from the spray pipe to rinse the materials. So as to achieve the purpose of cleaning and peeling.