Features Of Fruit Bubble Washing Machine
1. Made of stainless steel, economical and durable, easy to clean.
2. Equipped with a bubble generating device and an ozone generating device, which simulates human actions to clean the fruit, and can play the role of sterilization and disinfection.
3. Equipped with a filter tank, which can filter the sewage, which is convenient for disassembly and cleaning.
4. The slope of the conveyor belt is equipped with a spray device, which can achieve the effect of secondary cleaning and make the cleaning more clean.
5. The cost of fruit washing machine is equipped with a water circulation system, which has the characteristics of energy saving and emission reduction.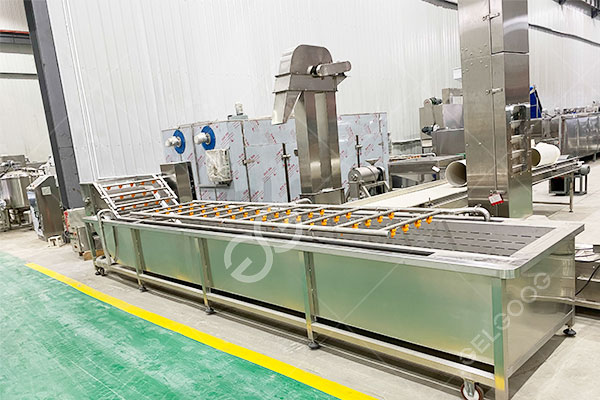 Advantages Of Commercial Fruit Washing Machine
1. The output of the fruit bubble washing machine is 300-5000 kg per hour, which can be customized according to the needs of its own processing.
2. The length of the machine and the width of the machine can be customized according to the different cleaning materials.
3. The machinery can be customized as a stand-alone machine, or it can be used with fruit and vegetable processing production lines.
4. Wide range of application, can be used to clean fruits, vegetables, seafood, herbs, can be used in farms, fruit and vegetable exporters, fruit and vegetable processing plants, canteens, restaurants, fields and other occasions.
5. The bottom of the machine is equipped with rollers, which is convenient to move and use.