Industrial Fruit Washing Machine For Sale Features
1. The fruit washing machine is equipped with a circulating water pump and a filter water tank, which realizes the recycling of cleaning water, saves water, and can be supplemented and replaced with new water according to the actual production situation.
2. The motor of the conveyor belt of the fruit washing machine manufacturers can realize the function of adjusting the speed change. The cleaned material is conveyed through the net chain, and the material is automatically fed and discharged, and the conveying speed of the conveyor belt can be adjusted according to the production needs;
3. Industrial fruit washing machine is made of food-grade 304 stainless steel material, and the introduction of equipment for lean processing, exquisite workmanship, sturdy and durable.
4. Wide range of application, suitable for cleaning and processing of various fruits and vegetables, and can also be customized according to user needs.
5. The combination of spray and bubble cleaning machine makes cleaning more thorough.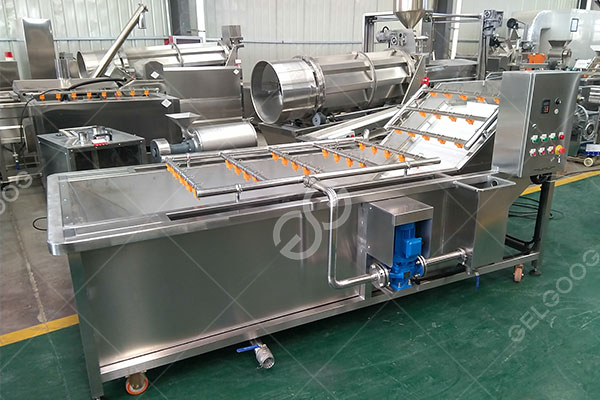 Advantages Of Fruit Washing Machine Price
1. The water circulation system is adopted, which has the advantages of energy saving and emission reduction.
2. Unique structural design, which can be adjusted according to the width to be processed.
3. All the water tanks of this fruit washing machine price are equipped with a slip-and-fall design, and all the water tanks can be individually pulled out to clean the equipment for sanitation, which is convenient for operation and cleaning.
4. This fruit washing machine price can be used with the production line, or it can be used as a stand-alone machine, and the application range is flexible.
5. Can provide technical support and operation guidance to help customers use it smoothly.