Working Principle Of Roller Seasoning Machine
When the material to be processed falls into the drum, it will be driven by the stirring blade to move upward, fall from above, and mix with the seasoning powder. During the working process, there is always seasoning in the dusting box, and it should be added in time when the seasoning is found to be insufficient.
Advantages Of Drum Seasoning Machine
*Excellent material: stainless steel
*High degree of automation: automatic operation is simple, convenient, automatic discharge, lower labor intensity.
*Even seasoning: Equipped with stirring and powdering, uniform and accurate quantitative.
*Flexible application scenarios: it can be used alone or with the production line.
*Easy to operate: The product integrates electromagnetic, light control, electric control, and digital delay, and is controlled by the control panel, which is easy to operate.
* Adjustable speed: the speed of the drum can be adjusted according to the needs.
*Easy to clean: Easy to clean after work is done.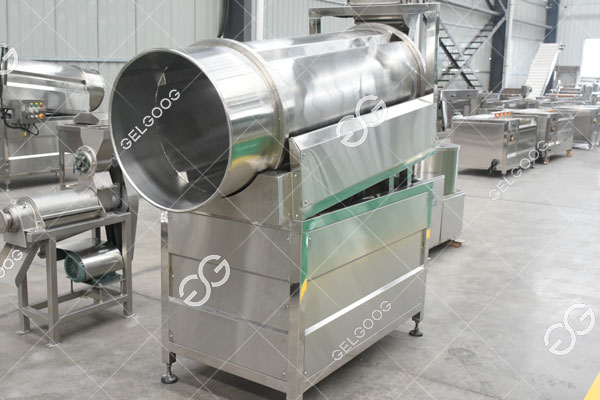 Structural Features Of Drum Seasoning Machine
1. Structure: The roller seasoning machine is composed of bracket, drum, drum transmission system, dusting system, dusting transmission system, switchboard and other main parts.
2. The roller is bent to form a scraper shape, which ensures the minimum weld seam, which is hygienic and easy to clean.
3. The material residence time can be adjusted according to the feet.
4. The exterior is stainless steel hoop, and the rotating roller is made of hard plastic roller, which is wear-resistant and has low noise.
Installation Of The Roller Seasoning Machine
1. The feet must be adjusted well during installation to ensure the stability of the machine.
2. The screws on the machine must be connected and fastened.
3. When the seasoning tumbler machine is in use, it is necessary to adjust the rotation speed of the drum. After the rotation speed is moderate, the knob of the inverter can be adjusted.
4. During debugging, the inverter should be accelerated slowly, and it is strictly forbidden to increase the speed at once.