Specifications Of Automatic Frying Machine
*Processing capacity: 200kg/h-1000kg/h
*Material: Made of high quality 304 stainless steel.
* Discharge method: automatic discharge after frying, high degree of automation.
* Heating method: electric heating, gas heating, coal heating, external circulation heating and so on.
*Application range: One machine is multi-purpose, can handle a variety of materials, all kinds of fruit and vegetable products that can be fried, flour products, meat products, nut products, etc.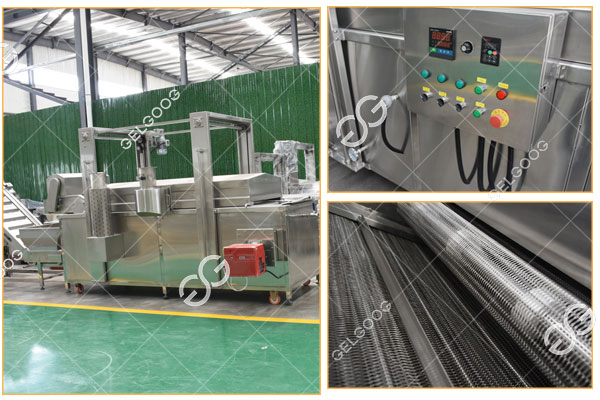 How The Machine Works
This automatic frying machine mainly heats the oil through the heating system, the material is in the middle of the upper and lower mesh belts, and the conveyor belt will fry the material that needs to be fried from the feed port to the discharge port.
Advantages Of Fully Automatic Frying Machine
1. The mesh belt conveying of the fryer adopts a variable frequency speed regulation motor, and the conveying speed can be adjusted.
2. The design method of double mesh belts avoids product floating and ensures even frying.
3. Optional button type and PLC operation, the operation panel meets the requirements of waterproof grade, safe and reliable.
4. Equipped with high-quality thermal insulation layer, high thermal insulation effect, reduce heat loss
5. The degree of automation is high, and the temperature and frying time can be freely set according to the processed materials.
6. The fried products are of good quality and will not be fried.
7. The residue produced during the frying process is discharged at any time to ensure the cleanliness of the frying oil.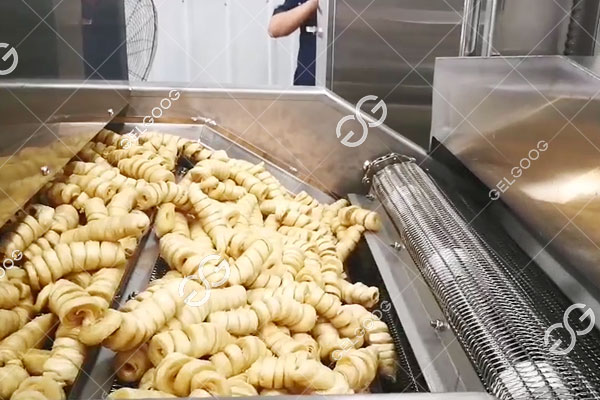 Application Of Automatic Frying Machine
The following is the application of this automatic frying machine, which is very beautiful in appearance, very time-saving and labor-saving to work, and is deeply loved by customers. As a professional fully automatic fryer manufacturer, we are committed to providing our customers with high-quality machines. If you want to work in the frying industry, then this fryer will be your best choice and will help you get more competitive premium frying products.
If you want to get more details about this machine or want to get a free quotation, you can leave us a message, and we will recommend a suitable machine for you as soon as possible.