Advantages Of External Heating Frying Machine
*The whole external heating fryer machine is made of stainless steel 304
*Output can be customized according to demand: 200kg/h-1000kg/h
*Double-layer mesh belt structure, a pulsator is installed at the feeding end of the equipment.
*Adjustable frying time and frying temperature
* Equipped with a bottom scraper mesh belt, used together with a dynamic filter to remove most of the residues generated during frying.
* Equipped with multi-point temperature detection device, as well as ultra-high temperature and anti-dry burning alarm device, to maximize the safety of use.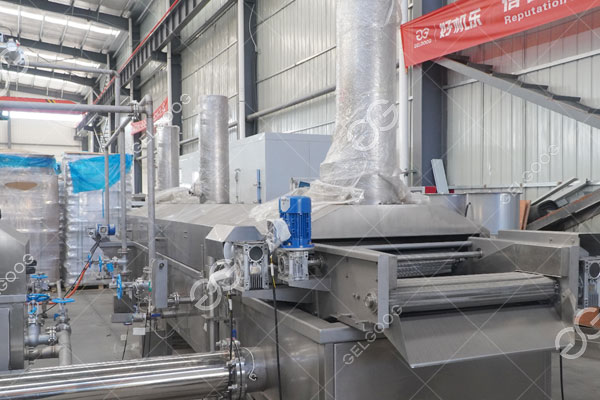 Working Principle Of External Heating Fryer
The external heating fryer mainly heats the heat conduction oil through the external heating device, and the heat conduction oil and the edible oil complete the heating work of the edible oil in the heating ring. When the edible oil enters the fryer through the oil pump, it is then circulated and heated through the oil pump into the heating ring. When the oil temperature reaches the set temperature, the heat transfer oil will no longer enter the heating ring, and when the oil temperature is lower than the set temperature, it will enter the exchanger again for heating.
Features Of External Heating Frying Machine
*The frying tank is made of 5mm thick SUS304 plate. There is no vertical welding seam at the bottom of the tank to avoid deformation or leakage at the bottom of the frying line due to excessive oil temperature.
*The feeding port of the frying line adopts the polytetrafluoroethylene plate (PTPE plate), which can effectively avoid the sticking phenomenon of various ingredients after entering the fryer.
*After scraping and discharging the slag at the bottom of the frying line, the original counterparts are using the oil tank to receive the slag to a side conveying slag discharge system, so as to avoid the fire of the frying line caused by the use of the lower oil tank to receive the slag.
*The heating part of the control heating tube is controlled by thyristor, which has the functions of heating, cooling and smoothing. It will not impact the power grid. When the set temperature is reached, the power of each group of electric heating tubes can be effectively distributed to save electricity.