Highlights Of Continuous Frying System Machine
1. The fume exhaust hood and the chain plate belt bracket can be lifted independently, making maintenance and cleaning more convenient.
2. In addition to the heating method of gas, you can also choose electric heating, coal heating, external heat conduction, etc.
3. The turnover rate of frying oil is fast, which is beneficial to improve the quality of frying oil.
4. The oil storage tank can be configured according to the demand, and the dial wheel can also be added, with a high degree of customization.
5. Advanced heating tube and burner heating, fast heating, good stability, temperature can be controlled according to process requirements, high energy utilization efficiency, energy saving and environmental protection.
6. Key-press or PLC operation, the operation panel is waterproof, simple and safe.The control panel is available for customers in multiple languages.
7. The fried food not only has good color, aroma and taste, but also has a clean and beautiful appearance, and improves the product quality and prolongs the shelf life.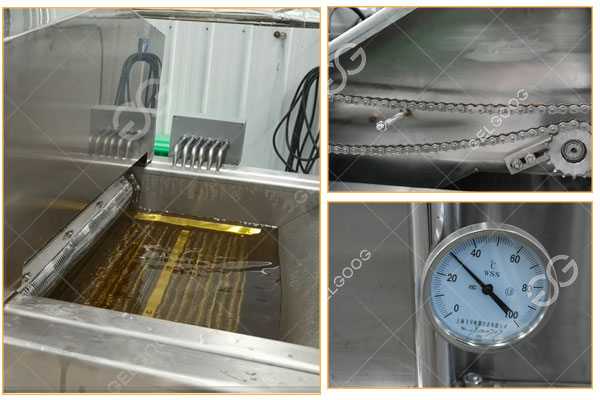 Application Of Continuous Frying Machine
This continuous frying system machine is suitable for continuous production of meat, aquatic products, vegetables, pasta and other products. In the production process, the oxidation of the edible oil is greatly reduced, the service life of the oil is prolonged, and the use safety of the equipment is improved.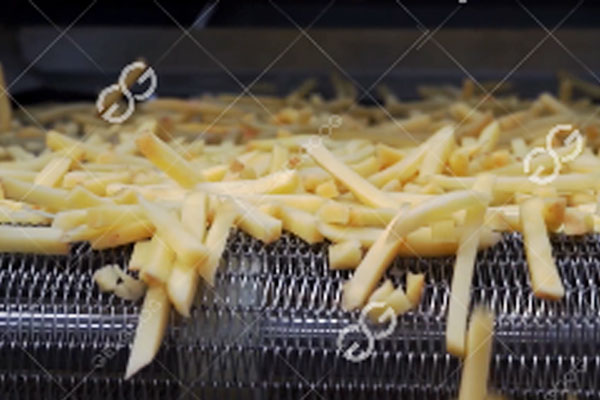 Operation Points Of Continuous Frying Machine
* After the machine is installed, it should be stable and all fasteners should be tightened. So as not to affect the quality of processing.
* When starting up, run the machine for 3-5 minutes to check if there is any abnormality.
* Clean the oil tank and conveyor belt, remove foreign matter and dirt, and dry the water.
*After confirming that everything is OK, turn on the power.
*Turn on the heating tube.
*When the oil temperature reaches the set temperature, turn on the mesh belt motor to make the conveyor belt start running. Start the oil pump.
*Set the frying time, and put the food to be fried into the input port.
*After the work is completed, turn off the heating pipe, and the circulating oil pump will continue to run to cool the oil temperature.