Working Principle Of Vibration Deoiling Machine
After the material to be degreasing enters the feed end, it vibrates forward through the vibrating eccentric device. In the positive vibration process, most of the oil droplets on the surface of the material can be shaken off, so that the material can remove most of the water or oil as soon as possible, and then enter the next process. Shorten the drying time of materials and improve work efficiency.
This deoiling machine for sale works very efficiently, delivering fast oil removal while maintaining material integrity. The machine provided by our company is usually used in conjunction with the frying production line, and it is also a degreasing machine that is very popular among customers.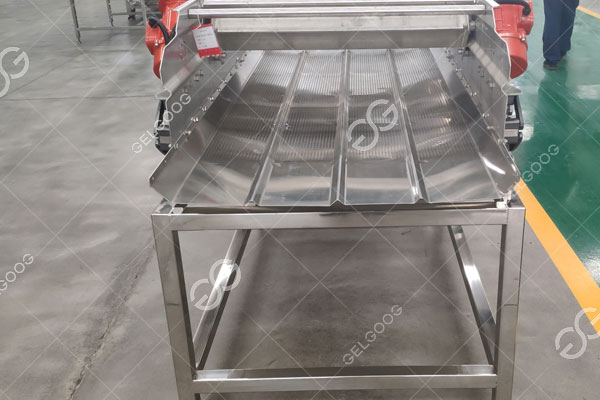 Features Of Vibration Deoiling Machine
*Material: Made of high-quality stainless steel, with a long service life
*The design is generous and reasonable, in line with the hygienic standards of food production.
* Low energy consumption, large processing capacity, high efficiency and high screening accuracy
*The oil removed by vibration can be recycled and reused
*This vibrating dewatering screen is specially designed for handling fragile materials such as sepals, and can be used in other vegetable and fruit production lines as well as in the deoiling of fried products.
About Us
*We have our own machine processing factory, which is more convenient to produce and customize this machine for you.
*We can match the corresponding machine or production line for you.
*The machine is delivered with detailed instructions.
*Can carry out test machine test for customers.
*You can contact us if you encounter any problems in use, and we will help your machine run normally to ensure better business.
If you want to get more details about this deoiling machine for sale, you can contact us, we will contact you as soon as possible and provide you with a free quotation.