This french fries frozen machine is a single quick freezer with advanced design and good performance. It has the advantages of energy saving, high degree of automation and stable performance. Widely used in food processing industry.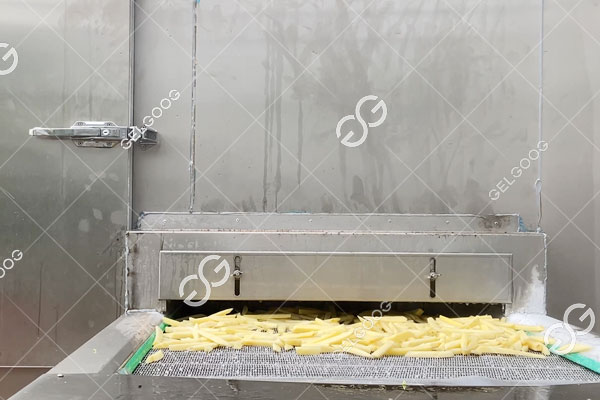 Advantages Of Frozen French Fries Machine
1. Sophisticated design and manufacture: This french fries frozen machine is manufactured with advanced fine craftsmanship to create a sophisticated new type of monomer quick freezing device.
2. The quality of frozen products is good: reasonable air convection is adopted, the frozen products are not agglomerated, the freezing speed is fast, and the quality of the frozen products is excellent, which fully meets the IQF standard.
3. High degree of hygiene: Adopting today's advanced design concept, the mesh belt conveying french fries is made of stainless steel. The internal structure is simple, cleaning and maintenance are very convenient, and it meets the requirements of food management.
4. High cooling efficiency: Evaporator with mechanical expansion tube, variable sheet pitch and high-conductivity material is adopted; the cooling effect is better and energy is saved.
5. High quick-freezing efficiency: The cooling fan with variable plate spacing and in-line structure is adopted, which has a low frost collection rate and increases the effective quick-freezing time.
6. Wide range of frozen products: widely used in solid food such as block and flakes or plate food, suitable for all kinds of food, such as pastry, prepared food, meat products, fruits and vegetables, fish, shrimp and aquatic products, etc.
7. Various output options: the processing capacity of this french fries frozen machine is between 300kg/h-3000kg/h, which can be selected according to demand.
8.Frozen french fries machine price :We offer french fries freezers at reasonable prices, let you know the output you handle and we will give you a reasonable price.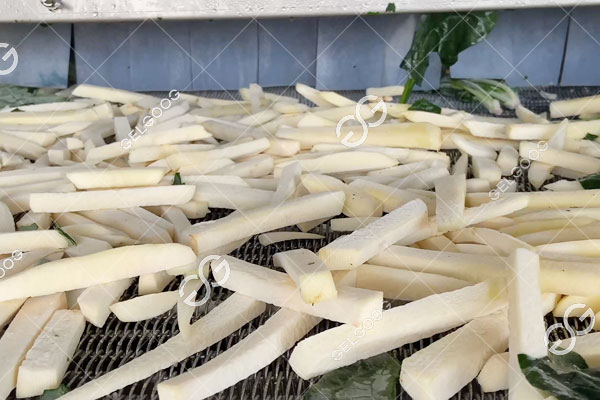 Precautions Of French Fries Freezer
1. Regularly remove the dust on the compressor coil.
2. Do not touch the cabinet with acidic food. The high acidity in many foods can also cause corrosion of the quick-freezing device.
3. Keep the drainage smooth. Clean the inside of the freezer daily, taking care to make sure the drain area is clear of clogged material.
4. Check the gasket weekly.